Book Return
Please return all of your library books.  Textbooks are due on the day you write your exam.
School Cash Online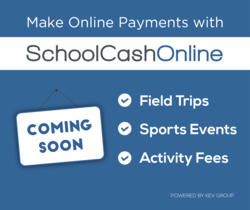 School Cash Online Payments is now live!  Wild Rose School Division is now offering School Cash Online as its preferred method of payment for all school fees, including everything from field trips to yearbooks. Cash online Available now.  Follow the online instructions to get started.  
Lunch order
Click here to order your lunch online.  Parents will have to register a login name and password.
Thanks to our sponsors
HW. Pickup staff and students would like to thank the following for their generous support over the last year
Kevin and Shawna Vig
Carol Lapointe
R. Drechsler Consulting Ltd.
Travis and Onowa Hogan
Mr. and Mrs. Hack Hamdon
Daylight energy
Don and Tera-Le Beckett
Poulin Enterprises Inc.
Hayduck Picker Service Ltd.
Karleb Homes Ltd.
Glen Gunderson Trucking
Conoco Phillips
Drayton Valley Community Foundation
Drayton Valley KinClub
Dawn Kennedy
HW Pickup Student wins 2017 Alberta great kids award Taija Dryden along with 15 other incredible children were chosen for the 2017 Alberta great kids award. Here's what they had to say about Taija:                                                                                        

"Taija not only triumphs in the face of adversity, she inspires people every day. Taija was diagnosed with Juvenile Dermatomyositis at age 9, a disease with no cure that causes a rash, fatigue and extreme pain and weakness. Taija had a tough choice to make at a young age: she could either let her body take power over her life or she could take power over it. She decided to use her situation for good and to serve as a mentor for her friends, family and community. She was determined to continue to go to school as often as she could and volunteering within her school and community became a regular occurrence. Even when she didn't feel well, she would push to go to school, to volunteer and to connect with those that needed her. She has spent many days and months in and out of hospitals but instead of complaining, she uses her time there as an avenue to help other kids who are sick. For one five year old in particular, Taija has become like a big sister, helping keep the young girl calm and distracted when she is at the hospital for treatment. Taija is an example of strength, determination and hope that keeps other people going on their bad days. She reminds people that the disease does not define the individual. For Taija, it is her spirit, smile and drive to help others that define her. 
Oilers Day
Students and staff dressed up in their finest Oiler's wear
Pink shirt day
Students dressed in pink shirts today to make a stand against bullying.
Hockey Hooky
Operation Christmas Child
HW Pickup collected 26 shoe boxes for Operation Christmas child this year.  Way to go HW Pickup students!
WE day
Some leadership students are at WE day in Calgary with Miss Gushue and Mrs. Gruninger Have a great time everyone
Makerspace donations needed
We are starting a makerspace here in the learning commons. We can use any donated materials. Cardboard, paper, lego. building blocks, old electronics (anything that can be dismantled), straws, art canvas, paper tubes, cardboard boxes, scissors, glue, duct tape anything really that we can use for exploring our world.
Welcome to HW Pickup Jr High School!!
Please take the time to look through our pages to ensure you are up to date.  You will find supply lists, school calendar, newsletters, and much more throughout the website. To contact a teacher or view their site please select the teacher from the E Teacher section.  
Bell Schedule
Overdrive library
Click here to access the Overdrive library.  eBooks and audio books from the division library available to students 24/7 all you need is your student ID number.
New Administration for HW Pickup
Mrs. Richardson has taken a position of Associate Superintendent with Horizon School Division.  Congratulations Mrs. Richardson.  Serving as principal for the remainder of the term will be former Vice-Principal Mr. Rosentreter, and taking his place will be Mrs. McClean.  Congratulations to both of you. 
Fee Schedule